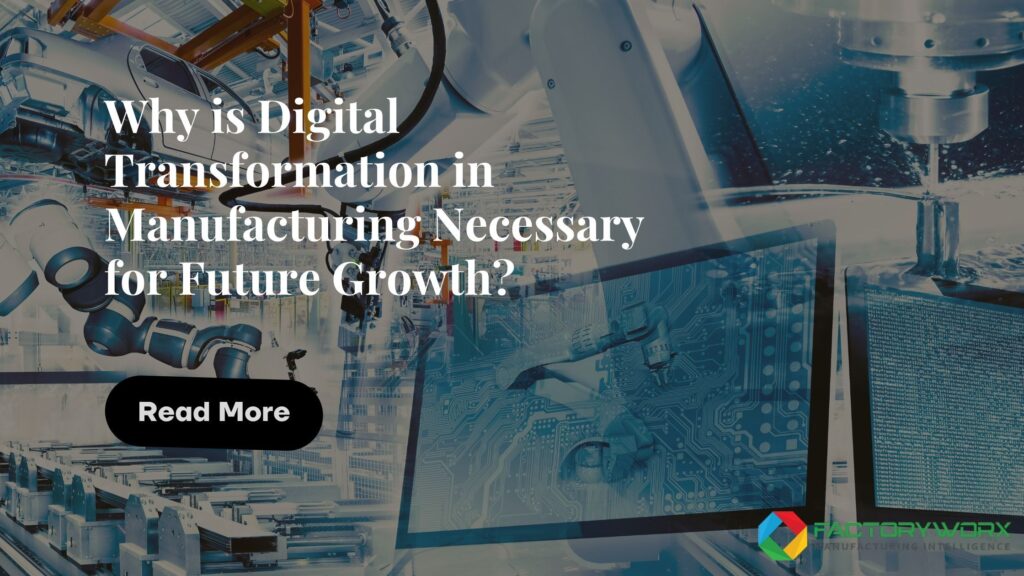 Why is Digital Transformation in Manufacturing Necessary for Future Growth?
Digital transformation in manufacturing significantly impacts organisations, suppliers, customers, and other third parties. Whether you're selling precision machinery or construction materials on the internet, technology can benefit you in several ways.
Manufacturers can use digital technologies to improve operational efficiencies and optimise many business areas, such as product development and supply chain management.
Digitisation boosts productivity instantly, allowing projects to proceed more quickly and manufacturers to meet more aggressive deadlines. Today, we'll look at how digitisation revolutionises manufacturing and what it means for the industry.
What does digital transformation mean for manufacturing?
Digital transformation in manufacturing comprises integrating digital technologies into products and processes to increase manufacturing quality and efficiency.
Manufacturing's digital transformation focuses on:
Enhancing operational efficiency while lowering expenses
Ensuring that manufactured goods are of excellent quality
Responding instantly to changing market conditions and customer expectations
Benefits of digital transformation in manufacturing
Here are a few reasons why one should use digital manufacturing technologies to change your industrial shop:
Improved Data Usage
Manufacturing digitisation improves data usage in processes, and manufacturers can feed data to their B2B eCommerce, CRM, ERP, warehousing, and other systems more effectively.
Improved Processes
Manufacturing operations could be revolutionised by digital transformation. For instance,  Real-time insights can be used to monitor, resolve, and even predict issues to optimise machinery lifecycles. It helps to ensure that operations are error-free and that costly rework and disruptions are avoided.
Smarter Outsourcing
Manufacturers can avoid disruptions and minimise the hazards of rushed solutions by introducing remote monitoring, proactive maintenance, troubleshooting, and data at their fingertips.
Reduce Costs
Businesses can use digital manufacturing to understand better supply-chain concerns like inventory levels, delivery status, and demand cycles. This improved visibility assists in the reduction of unnecessary risk and expenses associated with situations such as excess inventory.
What role does inventory management play in manufacturing?
Businesses use a variety of components, equipment, parts, and machinery to manufacture the finished goods they sell to their customers in manufacturing. Any minor interruption in supplies can wreak havoc on production, resulting in costly delays and work stoppages.
You could avoid this all with inventory management. Proper inventory management allows manufacturers to track what inventory they have on hand, where, and how much they've got.
Additionally, manufacturers who utilise a well-designed inventory management system have access to a wealth of information about how their inventory has been used previously.
Inventory Management Software for Manufactures
Inventory management software is the best choice for most manufacturers who want a better hold on their stock. Inventory management software allows manufacturers to keep track of everything they have.
Inventory management in the manufacturing process is more efficient and accountable with FactoryWorx Inventory Management automation and real-time inventory visibility, from component arrival at the loading dock through product traceability and the whole Supply Chain to the client.
FactoryWorx Inventory Management provides complete visibility and optimisation of all stock and inventory movement associated with production and logistics.
Key Technologies in Manufacturing digital transformation
Let's look at the technologies driving the industry's most significant advancements and improvements.
IoT
The Internet of Things (IoT) has become a critical component of almost all manufacturing innovations. Companies can receive a 360-degree insight of all their assets and facilities with IoT-based solutions, boosting their capacity to monitor the production floor, improve performance, and handle real-time concerns.
Industry 4.0
Industry 4.0 is a concept that emphasises the integration of traditional manufacturing, industrial infrastructure, and smart technologies across value and supply chains. The primary goal of Industry 4.0, sometimes known as "the fourth industrial revolution," is to automate and control all manufacturing operations in real-time digitally.
Machine learning
With the quantity of data that machines collect, it's easier than ever to use algorithms to quickly choose the optimal course of action from various possibilities — something that would be far too time-consuming for humans to do.
Today's machines have demonstrated that efficiency does not mean sacrificing quality, as devices can better identify and anticipate which factors will affect output, assembly-line speed, and quality.
Digital transformation in manufacturing opens up plenty of new possibilities, including personalisation, efficiency, agility, and automation. On the other hand, any digital transformation strategy should never lose track of changing times. That's why manufacturers should never forget that while digital transformation is unavoidable, it should not be considered a solution to any single manufacturing area.
Instead, think of developing a manufacturing digital transformation roadmap as a continuous process of gaining and maintaining a competitive edge in the market.