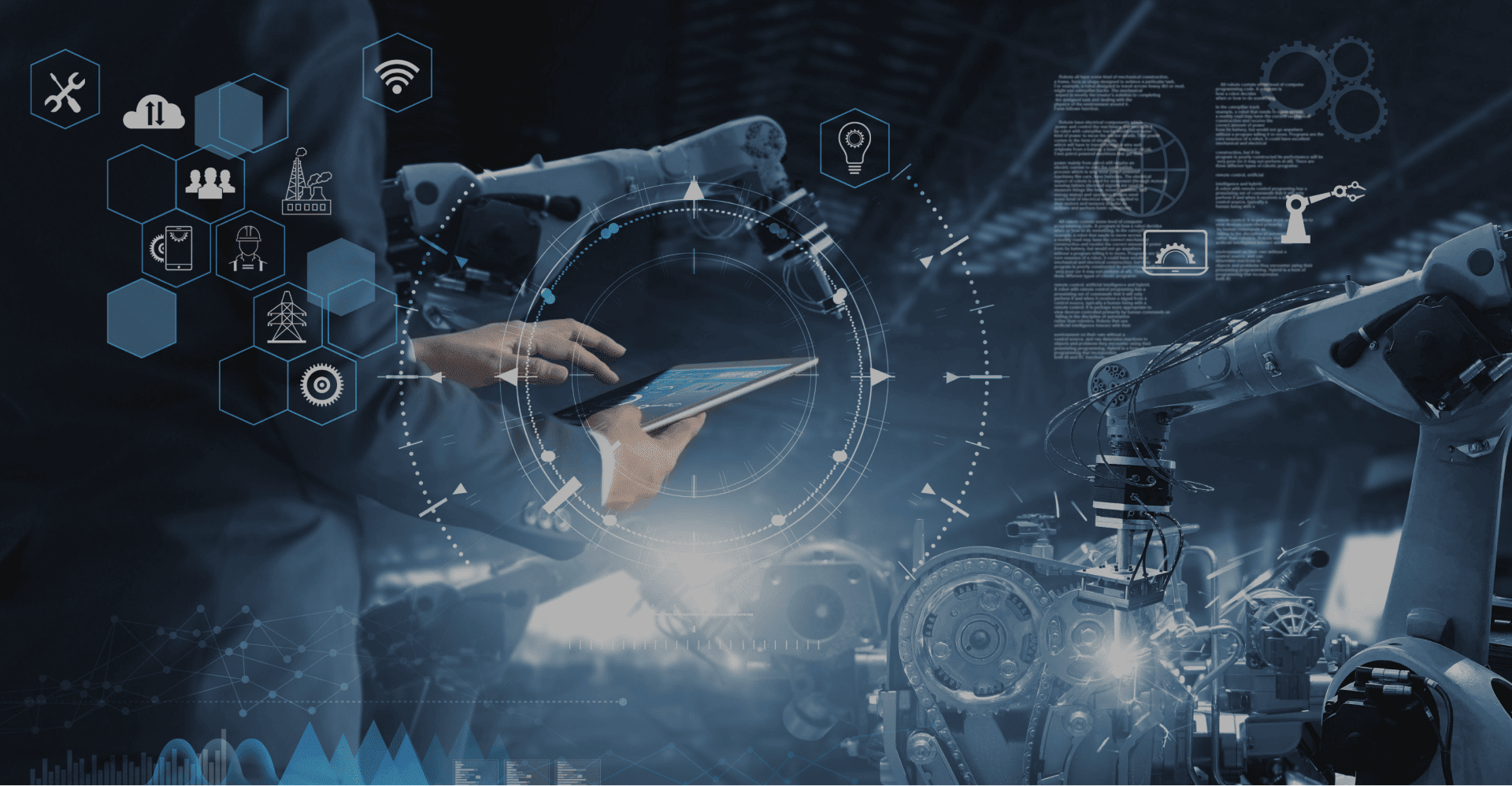 Why FactoryWorx
Industry 4.0?

Stronger bottom line
with automation

Speed
to market

Quality that builds
the brand
REQUEST A DEMO
FactoryWorxTM Industry 4.0
Accelerate Growth with FactoryWorx Industry 4.0 Capability
Introduction to FactoryWorxTM Industry 4.0
FactoryWorxTM Industry 4.0 is also referred as Smart Factory Solution or simply I4 Solution. Our solution is built on the philosophy about rapid data, real-time in-depth analytics, standardisation, easy management and rapid plug-and-play deployment that requires minimum installation.
The ultimate goal and promise of FactoryWorxTM Industry 4.0 Solution is to drive increasingly higher adaptability in production to rapidly respond to the changing trends and customer demands for short-run product variety and personalisation, without sacrificing the quality or profitability achieved in large volume production.
FactoryWorxTM Industry 4.0 Solution is fully aligned with leading global trends, but its main focus and biggest advantage is to imbed a layer of intelligence into the automation, leveraging the connectivity of IIoT technologies, AI, and predictive analytics, to accelerate our clients' operational and strategic decision making and innovation across the entire value chain.
Starting with automation or looking for a holistic MES Solution? Start Here.
Why Smart Manufacturers Embrace FactoryWorxTM Industry 4.0 Solution
On the operational level, smart companies want to drive their factories in the same way most of us prefer to use a car. We simply want to get in and, and with easiest effort, without thinking what to do next, go where we need to get, using the optimum route, relying on the IoT enabled navigation.
FactoryWorx Industry 4.0 enabled MES  allows manufacturers to set criteria for the best path to achieve their production and business goals. A system designed with appropriate, advanced sensors and hardware establishes machine to machine (M2M) communication. With relevant criteria and metrics programmed in (increasingly simpler and more intuitive task), the IIoT powered life undertakes relentless, tireless and free of human errors process of:
Measuring and reporting correct and real-life data.
Instantly visualising information the decision-maker (operator or CEO) needs at any time.
Adjusts production inputs and outputs to optimise costs, including, scheduling, energy and asset management.
Providing warnings and alerts, based on predictive analytics, to illuminate the path forward.
Leverage the extraordinary adaptability and power of FactoryWorxTM MES Platform Solutions to drive your manufacturing operations to the next level of competitive performance and market leadership.
FactoryWorxTM Industry 4.0 Solution – Our Difference
Unlike any other solution on the market, FactoryWorxTM Industry 4.0 is a natural extension of FactoryWorxTM MES,  a single, exceptionally comprehensive platform, which is by default equipped with industrial sensors and IIoT technologies as well as AI capability.
Born out of modern information technology thinking, transforming the manufacturing environment from within, FactoryWorxTM Industry 4.0 is designed to address and solve all manufacturing operational challenges, while also driving innovation through Continuous Improvement modules and supporting strategy through predictive analytics and value chain connectivity.
It is simply the matter of scale of automation. In the FactoryWorxTM Industry 4.0 large groups of integrated sensors are interconnected to effectively resolve any sensing/data requirement from factory automation, logistics and production monitoring. All you need to do, when ready, is to flick the switch to go into full Industry 4.0 overdrive.
No disruptions, no need to learn new software or perform complex systems integrations.
Discover the possibilities!
Welcome to your manufacturing future.
Six Ways FactoryWorx Helps You Succeed in Industry 4.0
Industry 4.0 delivers its full potential only when all critical elements are in place. Our holistic approach, seamlessly executed in collaboration with our Partner ecosystem, aligns our exceptional software, with devices, communication and training to close the knowledge gap of your employees.


How FactoryWorxTM Industry 4.0 Delivers Strategic Outcomes
FactoryWorxTM Connectivity
Internet of Things
Cloud
Sensors
Blockchain
FactoryWorxTM Human-Machine Communication
Devices and Wearables
Virtual and Augmented Reality
Robotics, AGVs
FactoryWorxTM Analytics & Intelligence
Advanced analytics
Machine learning
Artificial intelligence (AI)
Team Collaboration
Knowledge Workforce
FactoryWorxTM Industry 4.0 Platform Solves Key Business Challenges
Business Challenge:
Efficiency and Costs Control
Transformational Shift:
Line scheduling optimised
Reduced cost of energy
Reduced cost of downtime
Reduced cost of maintenance
Improved asset utilisation Business Challenge:
Productivity Improvements
Transformational Shift:
Eliminated waste
Improved labour management
Improved human engagement
Business Challenge:
Consistency of Quality

Transformational Shift:
Reduced warranty and recall issues
Reduced reject and reword cost
Improved Customer satisfaction Business Challenge:
Ease of Operations

Transformational Shift:
Easy data collection and visibility
Fast deployment of additional functions
Plug and play sensor maintenance
Time saving remote sensor management
Business Challenge:
Revenue Growth
Transformational Shift:
Improved Brand quality image
Higher customer retention
Capacity for new customer offerings Business Challenge:
Maximise Production Capacity
Transformational Shift:
More short product run opportunities
More fast turnaround projects
Better planning with predictive analytics
An Elegant Manufacturing Solution designed to deliver Value
Four Reasons to Adopt FactoryWorxTM Industry 4.0 Solution.
Test  a Free version
Free trial [60 days]
PAYG Subscription
Outright Purchase
Cloud, Browser
Installed – Windows
Mobile – Android App
Mobile – iOS Ap
Documentation
In-Person with Experts
Live Online
24/7 [Live Reps]
Business Hours
Online
Drive Your Industry 4.0 Transformation With Our Holistic Support
The advantages of Industry 4.0 transformation come with challenges that need to be balanced against the gains with corporate strategy and social responsibility. These challenges are influenced by economic, social, and political factors and ultimately, affect organisations internally.
Therefore, smart organisations embracing Industry 4.0, address these challenges as part of the strategic process, and build relevant communication and desired behaviours into their approach.
We leverage our Partner Program to support your organisation in addressing these challenges through:
Ready to see the possibilities?