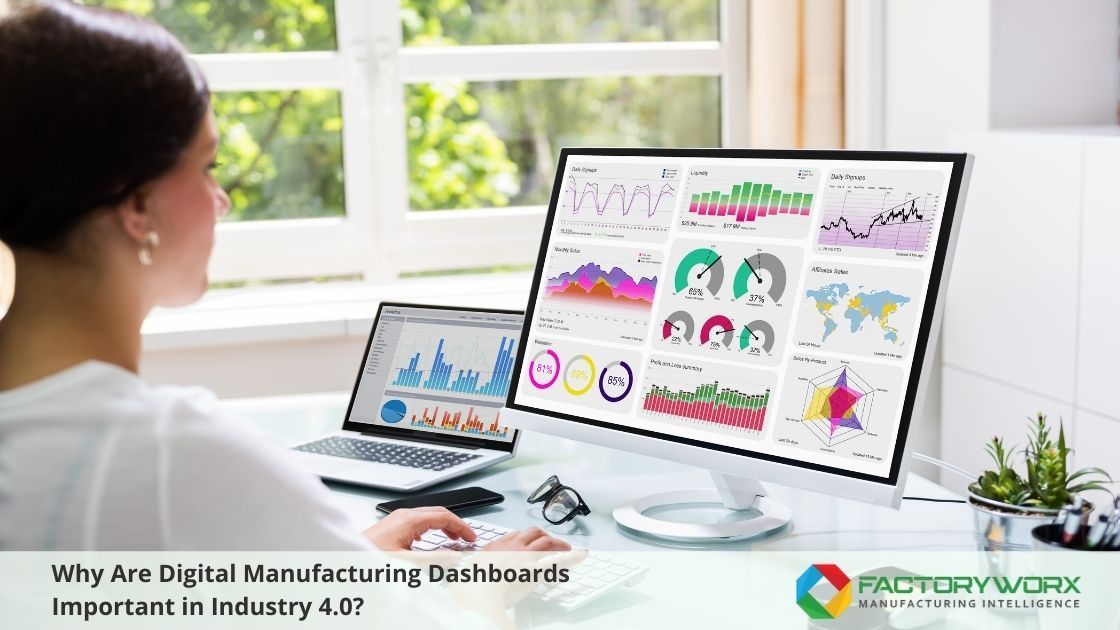 Why Are Digital Manufacturing Dashboards Important in Industry 4.0?
The goal of Industry 4.0 is to track rapid real-world changes and use them to boost your factory's efficiency and profitability. Naturally, data and manufacturing dashboards are critical aspects of this process.
The manufacturing analytics dashboard converts the never-ending data stream from real-time monitoring devices into simple visual displays and actionable insights. This article explains why digital dashboards are essential and how they can help with Industry 4.0.
Why is it Important to Have a Digital Dashboard in Manufacturing?
Digital dashboards are one of the most effective instruments for optimising manufacturing performance. Better knowledge leads to better judgments, and a digital dashboard that displays the most critical data in real-time allows for well-informed decisions. A digital dashboard provides a dynamic visual that is easy to understand at a glance, even if the data is complex or straightforward.
This form of real-time feedback helps supervisors identify any concerns that require attention. It also provides input to workers to adjust their behaviours to meet production goals. It even encourages dialogue between workers and management to help better set realistic goals and expectations and voice concerns.
They can uncover the reasons for unplanned downtime and substandard products by increasing plant utilisation. The dashboards bring the most critical data to the front of the screen, allowing producers to focus on key performance indicators (KPIs), vital for survival in this competitive industry. It indicates that purchasing such production monitoring software is well worth the money.
What is the state of digital manufacturing in industry 4.0?
Digital transformation in manufacturing entails using new technologies like automation software, eCommerce, sensors, industrial robots, and more to improve traditional manufacturing processes, products, and workforce.
The aim of digital manufacturing transformation is as follows:
Increase operational efficiency by lowering expenses and increasing income.
Improving the quality of manufactured items.
Enhance the customer experience (e.g. streamline the ordering process)
Improve your decision-making abilities
To maintain a competitive advantage, adapting to client expectations and market changes.
Due to changes in the global, economic, and policy landscapes, the state of manufacturing is constantly evolving. Not to add that the pandemic wreaked havoc on many manufacturing companies, forcing them to adjust swiftly to stay afloat.
FactoryWorx Dashboards is a robust business and manufacturing visualisation software that collects data from all business systems, including IIoT devices, analyses it, and presents a highly visual and easy-to-understand snapshot of essential business information to employees at all levels.
It also gives you fast, real-time visibility into KPIs, activity status, and data to make quick, strategic decisions about specific targets or business goals. FactoryWorx Dashboards are also available at any time and from any location.
Evolution of Manufacturing Dashboards
Manufacturing dashboards have been around for decades, but their functionality was not as advanced as it is now. Dashboards used to be static, one-size-fits-all solutions that you could only view via a computer. The data was updated at extended intervals, and the information shown was generic to all users. Even though these instruments were cutting-edge at the time, they lacked the agility and analytical capability to realise their full potential.
A manufacturing dashboard must do more than just present yesterday's news; it must provide users with the most up-to-date and relevant data and employ AI to contextualise it.
It should also boost your monitoring efforts with real-time notifications that ensure you have the information you need. It should enable you to communicate with your team on a particular job, increasing visibility and transparency. You can even assign tasks from the central hub, all done on a mobile-friendly interface.
Digital Manufacturing dashboard benefits
1. Makes complicated information understandable.
Manufacturers are gathering more data than ever before in the age of Industry 4.0 and IIoT. Manufacturing dashboards can take this data and remove the clutter, providing you with the insights to make better decisions. For example, you can remain assured in modifying equipment or opening new lines to boost output appropriately. Also, production meetings are more effective and efficient when you have the right and easy to understand information on hand!
2. Get a complete picture of your production lines.
For optimal operation, real-time line visibility is essential. Manufacturing dashboards allow you to view what is happening with your production lines at any given time. You can see what's functioning and what isn't and where the bottlenecks are.
Manufacturing is becoming increasingly reliant on various factors due to low operational margins. It is not enough to focus on specific machines or lines to optimise company-wide operations. Instead, you can consider aspects like scheduling, budgeting, operational performance, and logistics (to mention a few) to operate as part of a well-oiled machine and remain profitable. Dashboards make this possible.
They can connect data from various sources (including ERP, MES, automation systems, and even Excel files) into a cloud repository. It lets you track the performance of a single element and the implementation of multiple factors, and how their interactions affect one another.
You may also perform trend analysis, which allows you to monitor the flow-on effects between different production divisions while also cutting down on time required to accumulate and aggregate data from various sources.
3. Gives the appropriate information to the right person
Dashboards are, by their very nature, adaptable. They can take data from different sources and turn it into insights to better understand operational performance.
Dashboards can thus be highly customised, presenting the appropriate information to the right individual at the right moment. A Vice President, for example, may be interested in KPIs that have an impact on monthly outcomes, such as cost reductions or risk management. A plant manager is concerned with standard metrics, including productivity, quality, and cost. On the other hand, a supervisor is likely to keep track of machine status, production, yield, and scrap levels.
Almost every company can benefit from a digital manufacturing dashboard. Operating without it makes it more difficult to comprehend complex data and increases the risk of missing patterns that would be more clear. They are an essential tool for any decision-maker, as they assist in driving and guiding the company in the right direction.